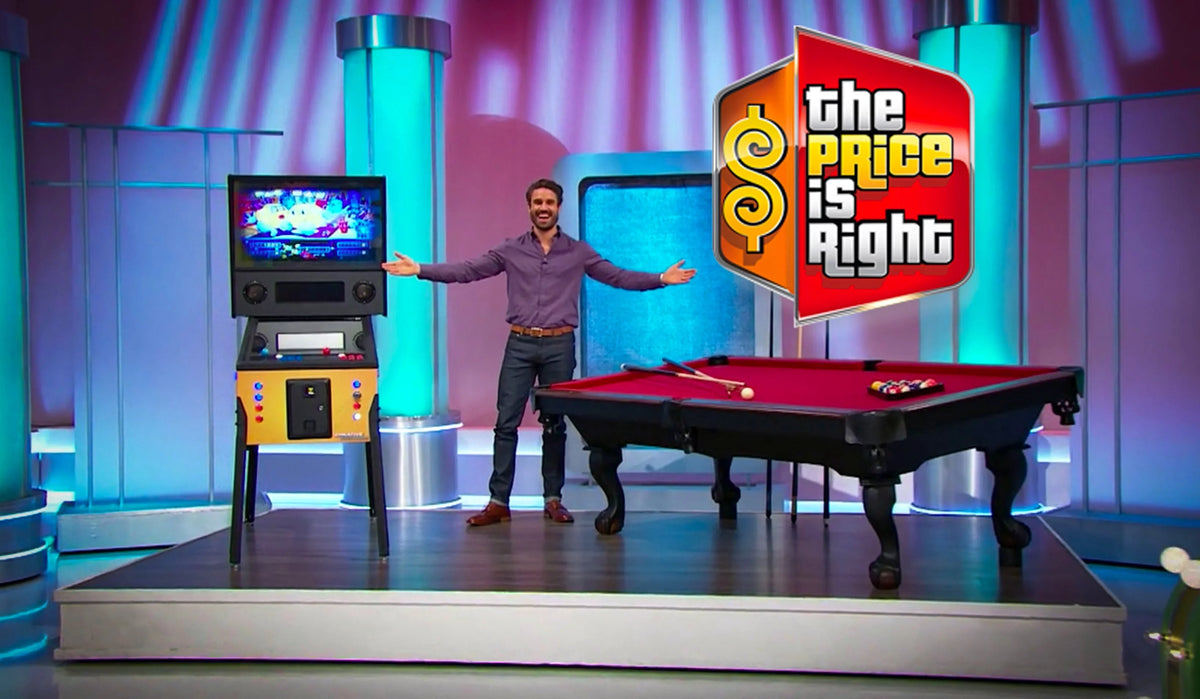 Creative Arcades Featured in The Price is Right!
In the world of arcade gaming, Creative Arcades has emerged as a trailblazer, a leader, consistently delivering innovative and exciting gaming experiences. With their state-of-the-art TR2 Virtual Pinball System, they have captivated the hearts of gaming enthusiasts worldwide. Now, adding another feather to their cap, Creative Arcades' flagship Pinball has been featured as a prize item on the popular television game show, The Price is Right, for the second time. Let's delve into this thrilling achievement and explore why the Creative Arcades TR2 Virtual Pinball System continues to captivate audiences.
Pinball has long been a beloved pastime, transporting players to a realm of flashing lights, mesmerizing sounds, and thrilling gameplay. Recognizing the timeless appeal of this classic arcade game, Creative Arcades embarked on a mission to bring pinball into the digital age. The result is their Virtual Pinball System, a breathtaking fusion of nostalgia and cutting-edge technology. The TR2 featuring solenoids to provide feedback vibrations, strategically placed subwoofer to extend the feedback. The TR2 includes a self leveling gyroscope to sense for tactical tilts/bump features, as well as a potentiometer for skilled plunger shots. With the angle of the 4K 49'' Display, experience would a real pinball should be without the expensive cost and maintenance of one.
Unparalleled Realism and Immersion:
The Creative Arcades TR2 Virtual Pinball System takes the traditional pinball experience to new heights, offering an immersive gameplay experience that is second to none. Through advanced graphics, high-definition displays, and authentic sound effects, feedback technology, players are transported into a virtual pinball wonderland. Every detail, from the clinking of the ball to the vibration of the machine, is meticulously designed to recreate the thrill of playing on a real pinball table. This includes 327 of the best rated and highly popular pinball tables, remastered into a digital masterpiece!
A Diverse Collection of Classic and Modern Tables:
One of the standout features of Creative Arcades' Digital Pinball System is its extensive library of pinball tables. Whether you're a fan of classic tables like "Medieval Madness" and "The Addams Family" or prefer modern creations like "The Walking Dead" and "Stranger Things," the system offers a wide array of options to cater to all tastes. Players can continuously expand their pinball adventures and enjoy endless hours of entertainment.
Showcasing Excellence on The Price is Right: 
Being featured on The Price is Right not once, but twice, is a testament to the unrivaled quality and popularity of Creative Arcades' TR2 Virtual Pinball System. The show's selection of this incredible gaming system as a prize item speaks volumes about its appeal and desirability among a diverse range of contestants and viewers. It underscores the fact that the Creative Arcades Digital Pinball System has become a must-have item for arcade enthusiasts and casual gamers alike.
Bringing Arcade Gaming into Homes
Traditionally, pinball machines were synonymous with crowded arcades and entertainment centers. However, Creative Arcades has successfully brought the joy of arcade gaming directly into the homes of countless individuals with their TR2 Virtual Pinball System. This accessibility has not only made the game more accessible but has also introduced a new generation to the joy and excitement of pinball.
Conclusion
Creative Arcades' TR2 Virtual Pinball System continues to make waves in the gaming industry, captivating players with its unmatched realism, diverse game library, and immersive gameplay experience. Being featured as a prize item on The Price is Right once again is a testament to the system's enduring appeal and the recognition it has garnered. As Creative Arcades pushes the boundaries of retro arcade gaming, we eagerly await the next thrilling chapter in their journey, and we can only imagine the awe-inspiring experiences they will continue to bring to players worldwide.